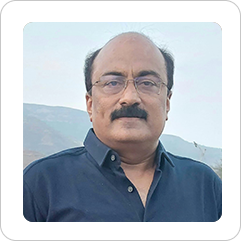 Shri.Pradeep M Yadav
Chief
Urban Design
Considering Urban Design's importance and to increase its involvement for holistic development of the City, MMRDA by its Office Order dated 28th May 2021 and 10th March 2021 has established a new Independent Urban Design Division in MMRDA.
The Urban Design Division is handling following works presently:
MTHL- Main Land Corridor, Navi Mumbai
Mithi River Front Development, BKC
BKC Art District - Kalanagar Proposals (excluding tender process)
Western and Eastern Express Highway and BKC Cycle Track
Urban Design Intervention for BKC, Mumbai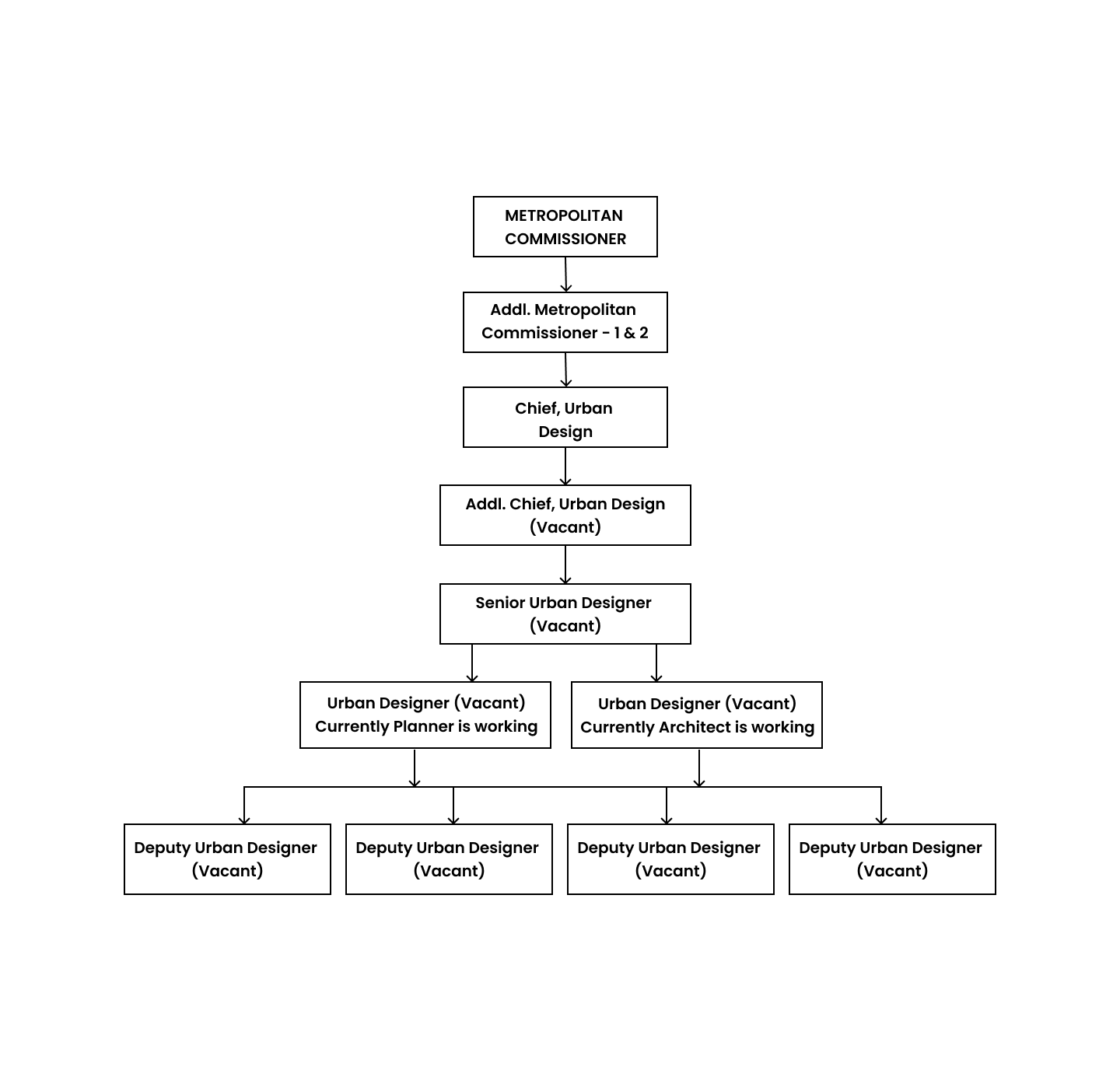 1.MTHL – Main Land Corridor
MMRDA is implementing the MTHL Project (length of 21.80km) in 3 Civil packages and package 4 for Intelligent Transport System (ITS) and other facilities. The Right of Way of the viaduct on Navi Mumbai side in village Gavan, village Jasai and village Chirle is 120 m on land, whereas the width of the viaduct is about 30m. The area under the ROW admeasures 108.43 Ha. approximately. MMRDA is in process of preparation of conceptual Master Plan for this MTHL- Main Land Corridor on Navi Mumbai side. The concept of Main Land Corridor is based on two Development Component viz; Green Component and Development Component with preponderance of green in the entire Main Land Corridor of MTHL on Navi Mumbai side.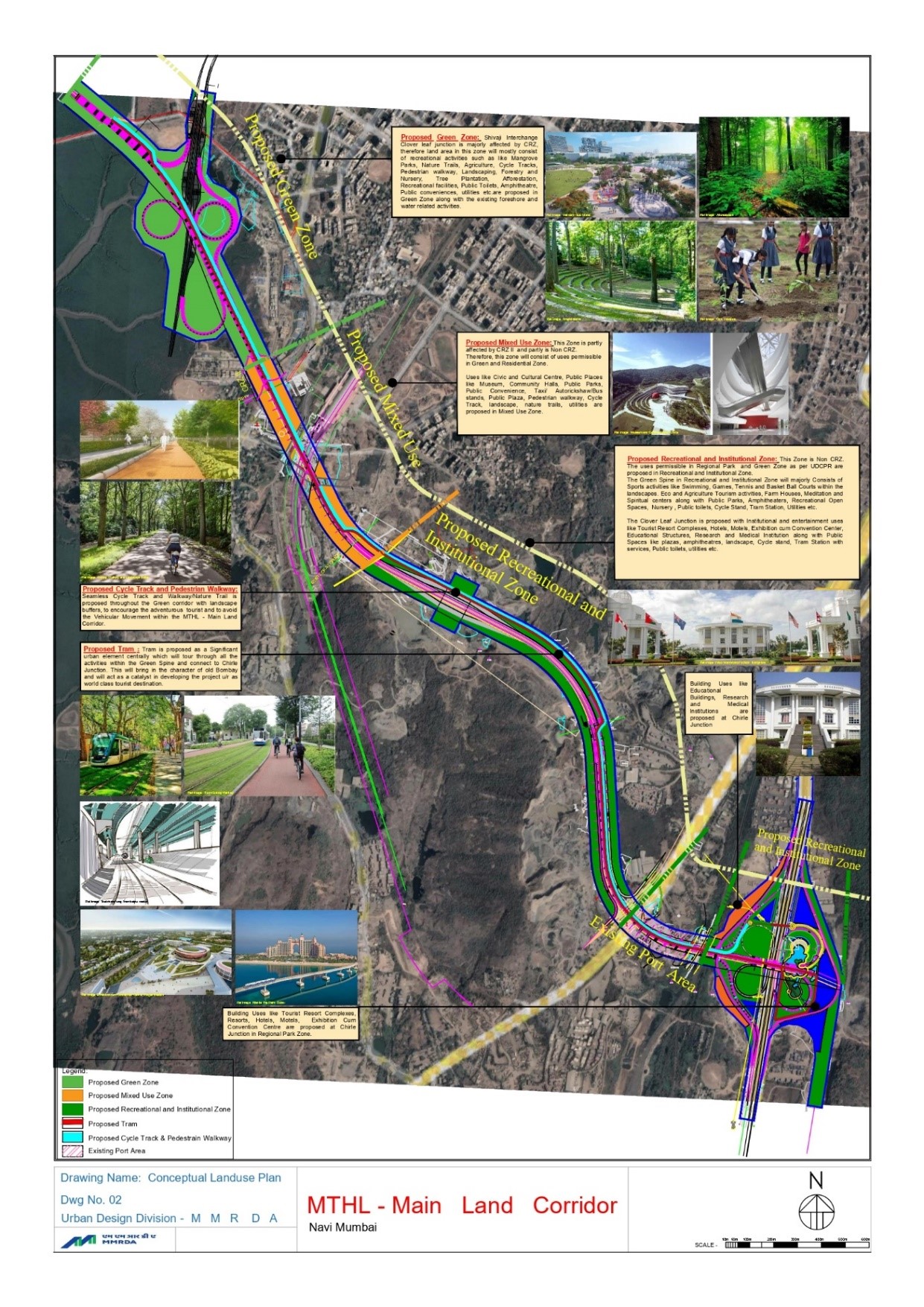 2.Mithi River Front Development
MMRDA has undertaken the Mithi River Front Development project which is conceived as a Tourism Development Project The said project is proposed to Integrate the River front and Sea front to establish a large city level public open space. A conceptual Master Plan for a stretch of approximately 6 kms from CST Bridge to Mahim Causeway is under preparation by MMRDA. This Place-making project intends to create vibrant and significant Public Place along the River edge which will attract people from all parts of city. The Strategies involved in development of the river front is to revive the River Edge by bringing in various Activities along the Mithi River viz; to use the River and Seafront for leisure, entertainment and recreational use, to create a seamless Pedestrian and Cycling linkages from the BKC Commercial District and from other Arterial Roads of the City to the riverfront and also to preserve and protect the existing Mangroves along the Riverfront.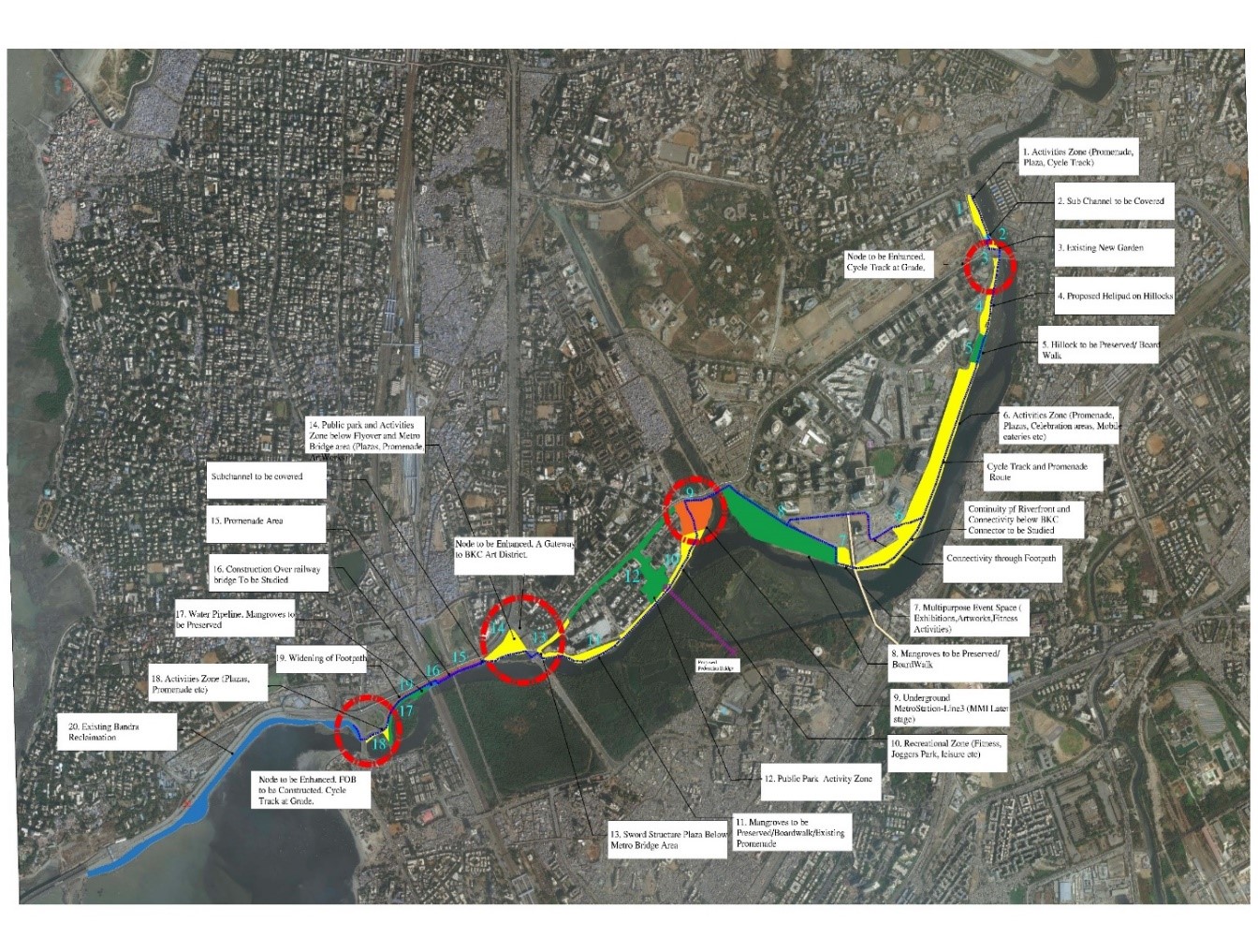 3.BKC Art District - Kalanagar Proposals
Kalanagar Junction forms an important Node of the City, as there are existing and proposed Flyovers, proposed elevated Metro lines, Sion Dharavi bridge and also various other major Transit Corridors passing through the said Junction. These flyovers and bridges around the Kalanagar Node are to be constructed as iconic structures and the area in vicinity with the Urban Design interventions to create an Identity to the City. The node enhancement project intends to create Urban spaces such as linear public parks, public plazas below the flyovers and Island plazas on traffic Islands, to build Iconic Bridges around the Kalanagar node to uplift the image of the junction.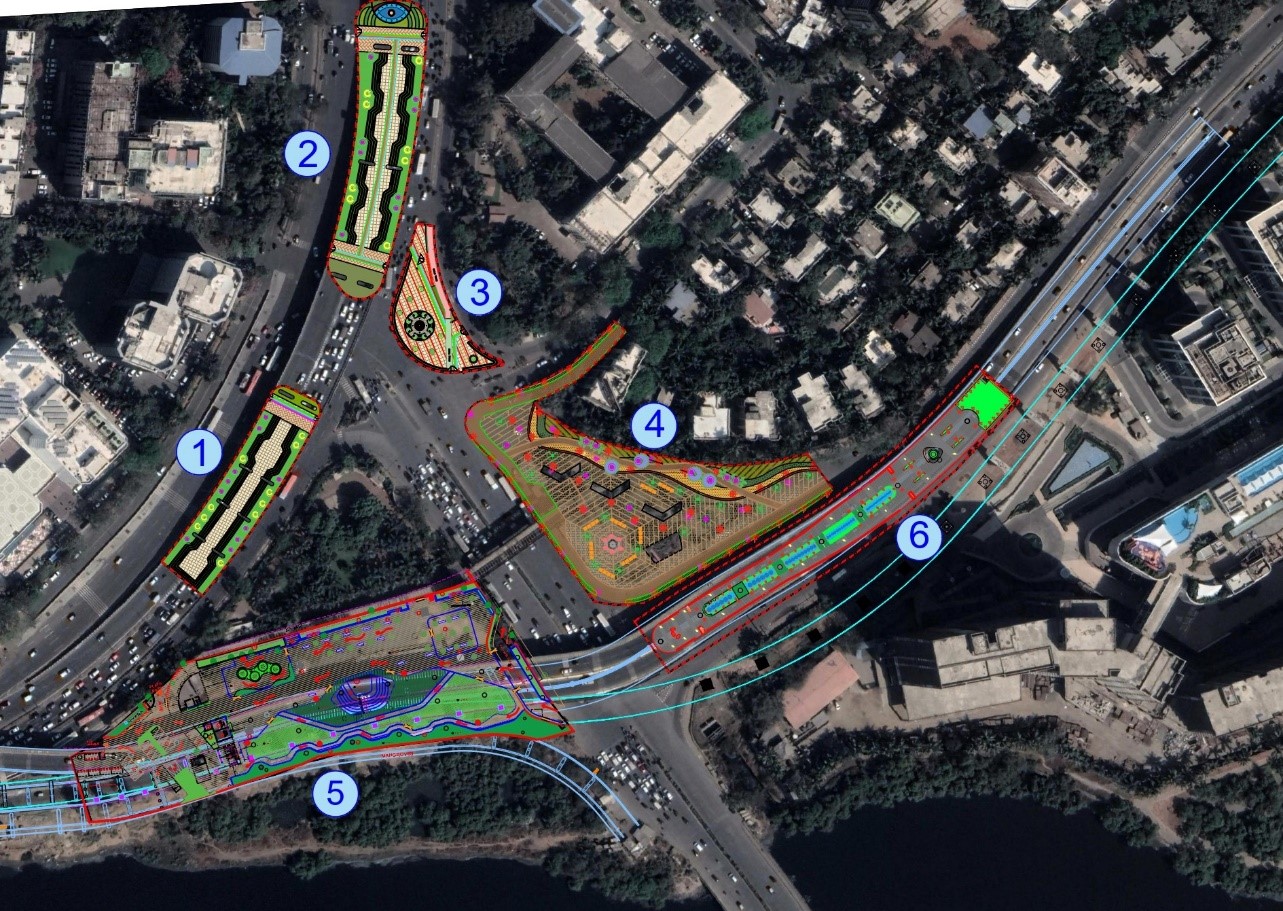 4.Cycle Track along Western and Eastern Express Highway, Mumbai
Since a decade and with the ongoing pandemic, the number of private car ownership is rising in the city of Mumbai, resulting in the traffic and pollution issues. Mumbai lack cycling infrastructure in its existing roads. Thus, in order to promote Cycling within Mumbai and to make cycling safer and more attractive, a cycling – inclusive planning and design is required to be prepared. Cycling-Inclusive planning and design is essential to enable Mumbai to reach its ambitious target for cycling which have been met in many European cities. MMRDA aims to develop Cycle Track along the Western Express Highway and Eastern Express Highway being the main arterial roads which are used by lakhs of public for their daily commute. A well designed segregated two-way cycle tracks on both sides of the highway with multi-utility space, green buffer area and cycle stands will be developed by MMRDA.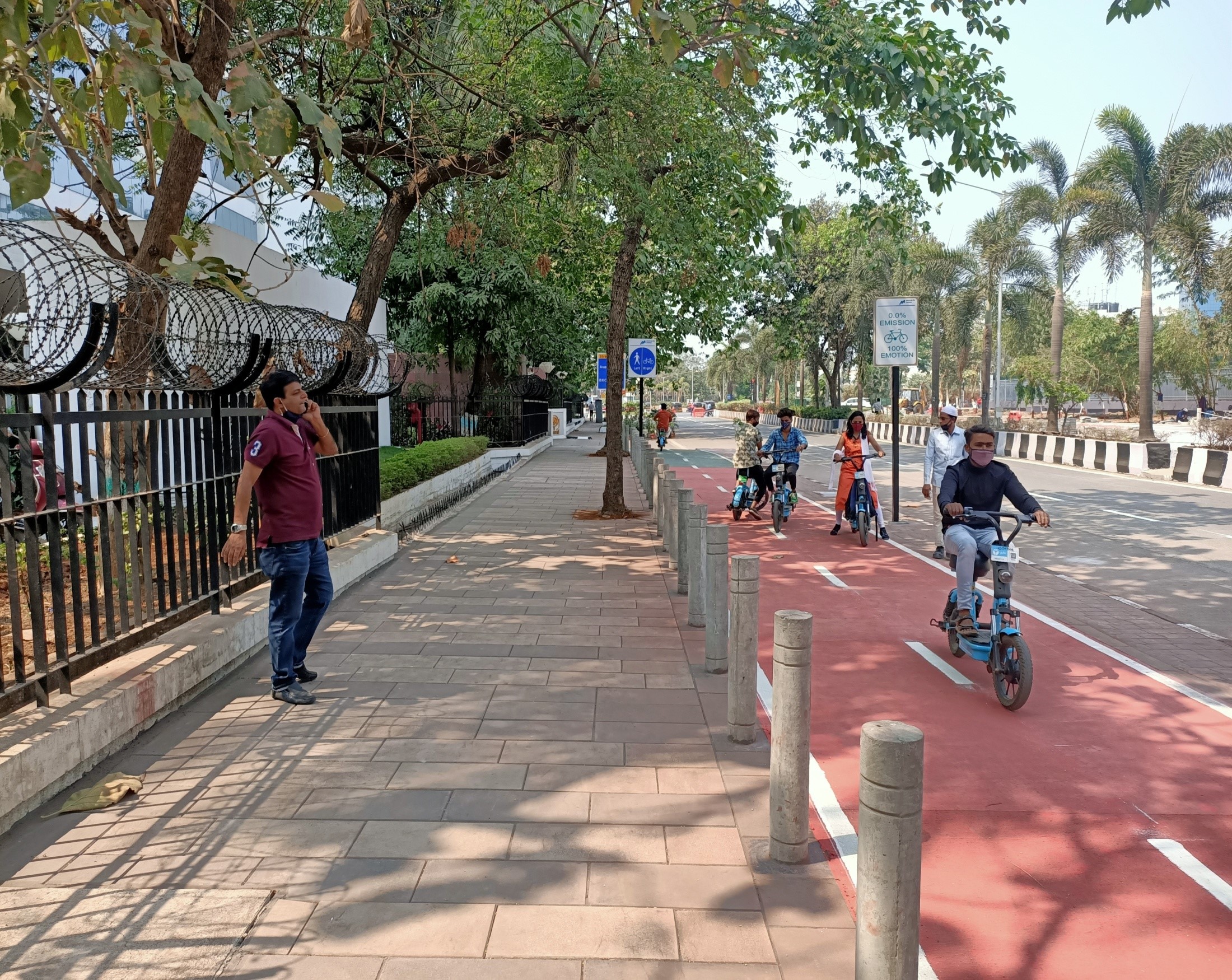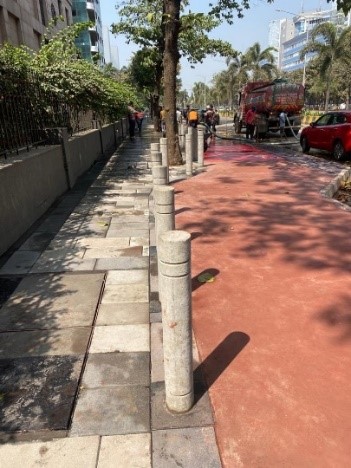 5.Refurbishment of Bandra Kurla Complex
In order to create a holistic development of public realm within BKC, MMRDA has proposed new refurbishment projects within BKC with Urban Design Intervention. The project will consist of improvement of Traffic Islands, Medians, Junctions, Public Open Spaces, Soft verges etc. within BKC which will help in uplifting the image of the district.