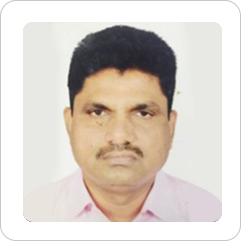 Shri. Madhukar Kharat
COO, Mono – PIU
The decision to introduce Monorail, as a feeder service to the Mass Rapid Transit System and cater to crowded and narrow areas was taken in September, 2008 by the Authority. The 20 km long corridor from Chembur – Wadala - Sant Gadge Maharaj Chowk is not only Mumbai's but India's first Monorail project.
MMRDA appointed M/s. RITES as a consultant for preparation of Techno-Economic feasibility report as well as providing assistance in Bid process management. The Techno-Economic and Financial Feasibility study for the project was completed by M/s. RITES and a notification dated 4th November, 2008 was published by Government of Maharashtra for implementation of the project under Tramway Act. Through global bidding M/s. Larsen & Toubro and Scomi Engineering, Bhd Malaysia (LTSE) consortium was appointed as contractor for the execution of the project. The cost of the project was Rs. 2,460 cr. (excluding taxes) and has been divided into two phases. While the first phase from Wadala to Chembur is 8.8km long and the second phase comprises of 11.20 km from Wadala to Sant Gadge Maharaj Chowk. The work on Phase-I i.e. Wadala to Chembur was completed and opened for public on 2nd February, 2014.
As, M/s. LTSE failed miserably to complete and commission the Monorail project in time; MMRDA in the larger public interest terminated the contract and took over systems and operations on 29th December 2018. The Second Phase Wadala to Sant Gadge Maharaj Chowk (11.20 km) and accordingly the entire line of 17 Station was opened for the public on 4th March, 2019.
You can reach through email at:
Monorail Project Implementation Unit (Mono-PIU) of MMRDA is looking after the Operations & Maintenance and Management of Monorail project. Presently, the Mono-PIU is divided into 3 Verticals and 13 departments which are looking after different activities of the Monorail system.
The staffs are deployed in 8 hours shifts. The availability of the manpower needs to be 24x7 as per the requirement of the Operation and Maintenance of the Monorail.
The key functions carried under Mono-PIU are as summarized below:
Operation & Maintenance of Monorail system which includes RST, Beam Switch, DEQ, Signaling, Communications, OCC, Station Operations, Safety, Security, commercial etc.
Repair & Maintenance of Monorail Infrastructures like Civil & Electrical.
Procurement of spare parts & consumables, equipment's and assets of different systems of Monorail.
Deployment & management of various manpower required for O&M of Monorail.
Non-fare box revenue generation through existing monorail assets &infrastructure.
Budgeting Financial & legal matters related to Monorail.
Corridor details
Phase I (Wadala-Chembur) - 8.8 km
Phase II (Sant Gadge Maharaj Chowk-Wadala) - 11.20 km 
Date of Commencement - 14th November, 2008
Train Composition - 4 cars
Commencement of service -
Phase 1 – 02 February 2014
Phase 2 – 04 March 2019 / Total Length - 20 Km
Total Stations - 17 Depot - Wadala / Travel Time - 45 Min.
Max. Passenger Capacity - 564 Passengers/Train 
Fare Structure - Rs. 10 to Rs. 40
Working Hours - 0530 Hrs. - 2330 Hrs.
Daily Ridership - Nearing 20,000 Passengers 
Design Speed - 80 KMPH
Scheduled Speed - 31 KMPH
Currently Mumbai Monorail is Operating Transportation services for Public from Chembur – Wadala – Sant Gadge Maharaj Chowk with total Length of Corridor of 20 KM.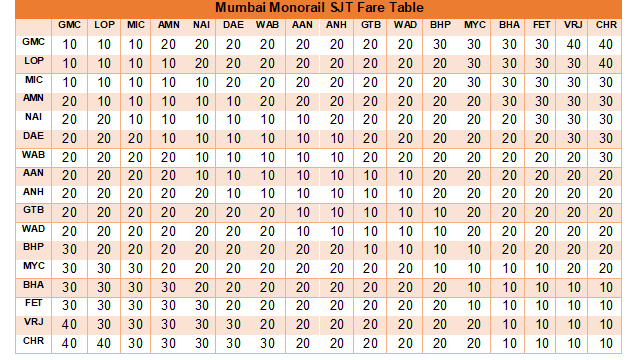 GMC - Gadge Maharaj Chowk / LOP - Lower Parel / MIC - Mint Colony / AMN- Ambedkar Nagar
NAI - Nai Gaon

 

DAE - Dadar East

 

WAB - Wadala Bridge

 

AAN - Acharya Aatre Nagar

 

ANH - Antop Hill

 

GTB - Guru Teg Bahadur Nagar

 

WAD - Wadala Depot

 

BHP-Bhakti Park

 

MYC - Mysore Colony

 

BHA - Bharat Petroleum

 

FET - Fertilizer Township

 

VRJ - VR Junction / CHR - Chembur