Slum Rehabilitation Authority Cell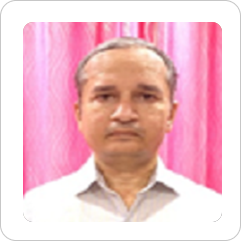 Shri. Mohan G Sonar
Chief
SRA
As per Section 17(3) of the amended MMRDA Act, 1974, the Metropolitan Commissioner, MMRDA, has been empowered as deemed Slum Rehabilitation Authority for the purpose of implementation of Slum Rehabilitation Projects required to be undertaken for the persons affected by MMRDA projects. Under section 17(1) of the said amended Act, as per Section 17(3), MC, MMRDA, is holding the powers of Slum Rehabilitation Authority and thereby all the powers of Chief Executive Officer, Slum Rehabilitation Authority under the MR & TP Act, 1966. Metropolitan Commissioner, MMRDA is thus a "Deemed SRA".
SRA Cell has been set up in MMRDA to scrutinize the Slum Rehabilitation proposals and to grant subsequent approvals as per Development Control Regulations applicable and as per Slum Rehabilitation Guidelines. Accordingly, till date, as approved by the M.C., MMRDA, MMRDA has constructed total 30,504 nos. of tenements for rehabilitation of Project affected persons. Similarly, construction of 4,231 nos. of PAPs tenements is under progress.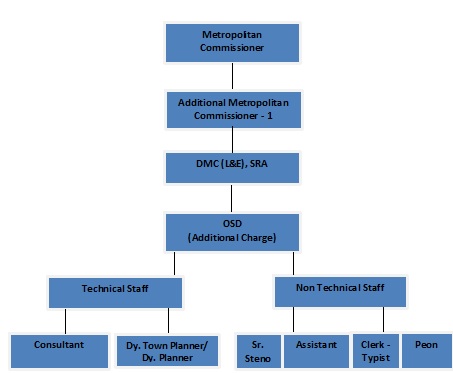 Scrutinizing the planning of Slum Rehab Schemes & approval to the same – issuing Letter of Intent, Layout approval and approval of building plans - IOA, Commencement Certificate at various stages of construction, Occupation Certificate.
Approval of TDR recommendation proposals in various ongoing and completed S. R. Schemes.
Planning & designing of various amenities in implemented Slum Rehabilitation Schemes.
Suggesting the specifications regarding elevation, water proofing and other combination along with the quality of construction work for the buildings under Slum Rehab Schemes and executing the Tripartite Agreement.
Internal correspondences with other Divisions of MMRDA.
Site visits to various S. R. schemes.
Attending court matters & filing affidavits for the same.
Disposing of RTI applications.
Completed S. R. Schemes by MMRDA under Clause 3.11 read with clause 3.5 & 3.19 of Appendix-IV of DCR 33(10) for PAPs
| Sr. No. | Name & location of S. R. Scheme | Name of Developer/Contractor | Name of Architect | No. of rehab buildings | No. of Tenements |
| --- | --- | --- | --- | --- | --- |
| 1 | S. R. Scheme on plot bearing new CTS no. 148B/1 to 148B/10 [old CTS no. 100(pt), 115(pt), 145(pt), 146, 146/1, 146/2, 147 & 148(pt)] of village Goregoan (W), ODC, Mumbai. | M/s Adarsha Industrial Estate | M/s Purbi Arch. | 6 | 869 |
| 2 | S. R. Scheme on plot bearing CTS no. 383/9 of village Anik, Chembur. | M/s East & West Builders | M/s S. V. Thakkar & Associates | 6 | 593 |
| 3 | S. R. Scheme on plot bearing CTS no. 50(pt), 51(pt), 52(pt) of village Majas, Ajgaonkar plot, Jogeshwari-E, Mumbai. | M.M.R.D.A./Patel Engineering | M/s Gherji Eastern Ltd. | 12 | 1200 |
| 4 | S. R. Scheme on plot bearing CTS no. 175A(pt) of village Majas, Poonamnagar, Mumbai. | M.M.R.D.A./Golani Bros. | M/s City Gold Management Ser. | 15 | 1616 |
| 5 | S. R. Scheme on plot bearing CTS no. 98/1 to 98/12, 101 to 111 & 149(pt) of village Goregaon (W), ODC, Mumbai. | M/s Skyline Const. Co. | M/s S. V. Thakkar & Associates | 15 | 2388 |
| 6 | S. R. Scheme on plot bearing CTS no. 383, 383/1 to 8, 383/10 to 17of village Anik, Chembur, Mumbai. | M/s Atithi Developers & Constructors Pvt. Ltd. | Dilip Deshmukh | 19 | 1963 |
| 7 | S. R. Scheme on plot bearing CTS no. 5 and 6 B of village Powai, Mumbai. | M/s Lakeview Developers (Hiranandani) | Suhas Joshi | 1 | 358 |
| 8 | S. R. Scheme on land bearing CTS no. 120(pt) of village Hariyali, Kanjurmarg (E), Mumbai. (Phase-I) | M.M.R.D.A. | M/s SPAN Consultant | 8 | 1036 |
| 9 | S. R. Scheme on plot bearing CTS no. 257D of village Goregaon, Nirlon Plot, Mumbai. | M.M.R.D.A./Classic Const. | M/s Uttam Engineering Pvt. Ltd. | 4 | 299 |
| 10 | S. R. Scheme on land bearing CTS no. 194A(pt) of village Ghatkopar (E), Mumbai. | M.M.R.D.A. | M/s Shrikhande Consultants | 2 | 196 |
| 11 | S. R. Scheme on plot bearing CTS no. 223A(pt) of Goregaon, NESCO plot, Mumbai. | M.M.R.D.A./Eagle Const Co. | M/s Uttam Engineering Pvt. Ltd. | 4 | 281 |
| 12 | S. R. Scheme on plot bearing CTS no. 1A/9 & 1A/13 of Anik, Bhaktipark, Wadala, Mumbai. | M/s Anik Development Corporation | M/s S. V. Thakkar & Associates | 11 | 1760 |
| 13 | S. R. Scheme on plot bearing CTS no. 2B/3, 2B/3/1 to 9 & 4D of village Mankhurd, Tatanagar, Mumbai. | M/s Hiranandani - Akruti (JV) | M/s City Gold Management Service | 26 | 4040 |
| 14 | S. R. Scheme on plot bearing CTS no. 2 of village Borla (Ghatkapar-Mankhurd Link Road) Chembur, Mumbai. | M/s Natwar Parekh & Co. | M/s Techno Arch | 35 | 7331 |
| 15 | S. R. Scheme on plot bearing CTS no. 591A/1 to 591A/10 (formerly 586, 586/1, 587, 587/1 & 2, 588, 588/1, 589, 589/1, 590, 590/1, 591, 591/1 to 13) of village Kanjur, Kanjurmarg (W), Mumbai. | M/s Piramal Holding Ltd. | M/s Hafeez Contractor | 12 | 2304 |
| 16 | S. R. Scheme on land bearing CTS no. 119(pt) of village Hariyali, Kanjurmarg (E), Mumbai. | M/s Sonasha Enterprises | M/s Matrix | 1 | 608 |
| 17 | S. R. Scheme on plot bearing CTS no. 301, 1021/A of village Bhandup (W), Mumbai. | M/s Anjanikumar & Co. | M/s Nandapurkar & Associates | 8 | 1732 |
| 18 | S. R. Scheme on plot bearing CTS no. 642 (pt), 642/1 to 29 of village Kanjur, Bhandup (W), Mumbai. | M/s Hsg. Dev. & Imp. Pvt. Ltd. | M/s Bidco Engineering | 1 | 358 |
| 19 | S. R. Scheme on plot bearing CTS no. 2B/2 (pt) of village Mankhurd, Chembur, Mumbai. | M/s Matrubhoomi Granite Pvt. Ltd. | M/s G. L. Pangam & Associates | 4 | 234 |
| 20 | S. R. Scheme on plot bearing CTS no. 551/77-B (pt) of village Nahur, Mulund (W). | M/s Middleton Developers | M/s Arch. Colloboration | 1 | 256 |
| 21 | S. R. Scheme on plot bearing CTS no. 46 + 50 to 56 + 58 + 59/13A & 46 + 50 to 56 + 58 + 59/14 of village Goregaon (W), ODC, Mumbai. | M/s Esha Constructions | M/s Manish Karnik & Associates | 5 | 523 |
| 22 | S. R. Scheme on plot bearing CTS no. 1427 of village Ekssar at Borivali (W), Mumbai. | M/s Saidhara constructions | M/s Techno Arch | 1 | 40 |
| 23 | S. R. Scheme on plot bearing CTS no. 1320A/14 & 15 of village Mulund (E), Mumbai. | M/s Mundra Salt & Chemicals Ind. | M/s Techno Arch | 5 | 349 |
| 24 | S. R. Scheme on plot bearing CTS no. 398 (pt) of village Vile Parle (E) (Milan Subway), Mumbai. | MMRDA/ Shivam Developers | M/s Techno Arch | 1 | 170 |
|   |   |   | Total | 203 | 30504 |
Ongoing S. R. Schemes by MMRDA under Clause 3.11 read with clause 3.5 & 3.19 of Appendix-IV of DCR 33(10) for PAPs
| Sr. No. | Name & location of S. R. Scheme | Name of Developer/Contractor | Name of Architect | No. of rehab buildings | No. of Tenements |
| --- | --- | --- | --- | --- | --- |
| 1 | S. R. Scheme on land bearing CTS nos. 247A of village Mandpeshwar, Borivali (W), Mumbai. | M/s Integrated Spaces Ltd. | M/s Techno Arch | 3 | 357 |
| 2 | S. R. Scheme on land bearing CTS nos. 47(pt) and 49(pt) of village Malad at Appapada, Malad-E, Mumbai. | M/s Ghanwat Developers Pvt. Ltd. | M/s Techno Arch | 1 | 296 |
| 3 | S. R. Scheme on land bearing CTS nos. 16A (pt), 16A/3 to 13 of village Malad at Appapada, Malad-E, Mumbai | M/s Pandey-Ghanwat LLP | M/s Techno Arch | 4 | 726 |
| 4 | S. R. Scheme on land bearing CTS no. 120 (pt) of village Hariyali at Kanjurmarg (E), Mumbai. (Phase-II) | M/s SPARC Samuday Nirman Sahayak | M/s Catapult Realty Consultant | 3 | 915 |
| 5 | S. R. Scheme on CTS no. 2B/4A of village Mankhurd & CTS No. 4A of village Deonar at Mankhurd, Chembur, Mumbai. (Phase-III) | M/s Rehab. Housing Pvt. Ltd. | M/s G.L. Pangam & Associates | 1 | 331 |
| 6 | S. R.Scheme on plot bearing CTS No. 119 (pt) of village Hariyali, Kanjurmarg (E), Mumbai. | M/s SPARC Samuday Nirman Sahayak | M/s Catapult Realty Consultant | 1 | 103 |
| 7 | S. R. Scheme on plot bearing CTS no. 138, 138/1 to 8, 139A, 139B & 139C of village Oshiware, ODC, Mumbai. | M/s SPARC Samuday Nirman Sahayak | M/s Genesis architects | 7 | 1379 |
| 8 | S. R. Scheme on plot bearing CTS no. 98/1 to 98/12, 101 to 111 & 149(pt) of village Goregaon (W), ODC, Mumbai. | M/s Skyline construction co. | M/s S.V. Thakkar & Associates | 1 | 124 |
|   |   |   | Total | 21 | 4231 |