Bandra Kurla Complex (BKC) was developed by MMRDA to create a State of the art financial and business hub. Bandra-Kurla Complex is being developed to decongest/decentralize further concentration of offices and commercial activities in South Mumbai. It facilitates built up space for operation of financial services, information technology and other ancillary services in the Bandra-Kurla Complex.
The complex has staff quarters, Club, 5 Star Hotels, Convention Complex, Diamond Bourse and hospitals apart from offices and houses a number of financial & business houses including National Stock Exchange, SEBI, & various national private banks, Schools, Mumbai Cricket Association's cricket ground along with the Consulates of United States of America, United Kingdom, Australia and France.
"Smart BKC 1.0 aims at becoming Smart Financial District harnessing the role of information and communications technologies that could play in transforming the Complex into a model Region of the future focused on three key aspects i.e. Livability, Workability and Sustainability. Smart BKC 1.0 envisages establishing key foundation initiatives with Strong ICT backbone for seamless experience for tenants, employees, other stakeholders with reduced energy consumption and reduced environmental stress".
MOUD, GoI released a comprehensive Smart City Mission statement and guidelines in June 2015 for the development of Smart Cities in India. The purpose set out for Smart City mission is to drive economic growth and improve quality of life by enabling local area development. The Smart City Mission predominantly focuses on economic development of cities, promoting sustainable environment and a framework for improving the quality of life of citizens. The Smart City Mission focuses on 4 pillars of Infrastructure development - Physical, Institutional, Social, and Economic Development. The components of smart city are retrofitting / brownfield project, Redevelopment Project, Green Field Project and Pan City Project.
MMRDA's Smart BKC initiative aligns to the MOUD-GoI Smart City Mission Statement and guidelines and GoM Smart City Development Plan, Smart Business Processes and Smart Integrated IT Suite.
MMRDA has carved its Smart BKC initiatives under three categories such as ICT, Non-ICT & Urban Design :
ICT : Municipal Wi-Fi, Smart Parking, Video Analytics and Citizen Apps, Smart Building Installations, Smart Kiosk Information Zone.
Non-ICT : E-Buses- Hybrid & Pure Electric, DHI- Viability Gap Funding, Solar powered Streetlights with Smart Grid, Clean Mithi River, Low Carbon/ Green & Clean Fuel Zone.
Urban design : Green Buildings, Smart Street Furniture, Online Building Plan Approval, Ease of Doing Business, Digital MMR, GIS & GPS enabled Services, Green Parks & Gardens components were considered.
The Scope of these initiatives covers 160 Hectare Area covering E&G Block of BKC for implementation of :
Public Wi-Fi and related wired network infrastructure (Seamless Wi-Fi -Free 2 Mbps with 1 GB limit per user per month available at Open spaces & Streets for Business and Exhibition Use)
Smart Parking with Parking Guidance System for around 2844 parking slots (Smart Indoor Parking, Smart Outdoor Parking, Smart Street Parking)
Citizen Mobile Application and Online Citizen Portal (Point of Interest, Offices, Parking Lot & Bus locator, SOS Apps, Events & Emergency s Information and Response)
Integrated Building Monitoring System – Buildings to share & Compete on Energy Parameters across BKC (Enhancing Efficiency by Consumption patterns Analysis, adapting to Green Building Standards, creating BKC as Energy Efficient Zone)
Centralized Command and Control centre (24*7*365 Centralized monitoring, Primary Video Analytics to BKC Police for Incident monitoring, Smart Analytics to MMRDA for IOT integration- WiFi, LED, Sensors, CCTV, Multi-Channel communication for Smart Analytics, SOS monitoring for effective disaster mgmt.- Police, Ambulance, Fire)
Energy Efficient Street Lights – There are about 815 electric poles existing in BKC. The energy efficient street lights initiatives intends to convert existing 1317 sodium vapour lights to energy efficient LED lamps. These initiatives will be undertaken by Energy Efficiency Services Limited (EESL) – a Joint Venture of PSUs of Ministry of Power- GoI. These initiatives shall reduce the power consumption; Time & Motion Sensors with Integrated IOT will reduce maintenance cost.
CCTV Project – Under the Mumbai CCTV project, GoM, Home Department plans to install about 6000 CCTV Cameras within Mumbai City. The Mumbai CCTV project covers BKC area and about 74 cameras shall be installing under the Mumbai CCTV Project. Considering the additional requirements of CCTV Cameras for Smart BKC project, MMRDA has requested to install additional 81 Cameras within BKC. MMRDA has requested for Video Analytics application for all the cameras install within BKC (74+81 CCTV Cameras = 155 CCTV Cameras with Video Analytics). This installation of CCTV Cameras will be undertaken by the Mumbai CCTV Project Consultant appointed by the GoM Home Department.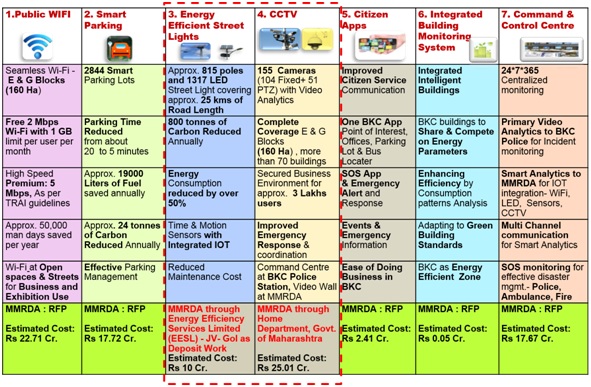 MMRDA has issued Request for Proposal (RFP) for Implementation of Smart BKC 1.0 Initiative on 15th July 2015.